After an early morning wake-up train journey - five hours of sleep weren't really much - I start my hike in Japan. No, stop, that's just my impression. I'm actually on the Marienplatz in Munich which is crowded by Japanese tourists shooting picture after picture. I don't dawdle there, only shoot the obligatory "before photo" at the fountain and at precisely 8:45 am I start my hike in the direction of the German Museum.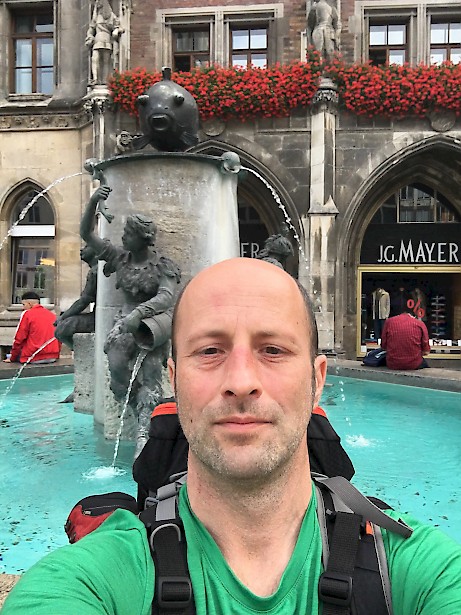 Though it's only morning, it is hot and humid. That doesn't help me to wake up. I ignore the hustle and bustle, cross the museum's courtyard and barely have time to blink before I reach the Isar river, from which I won't deviate very far for the rest of the day.
The Isar floodplains are pretty, there's no denying that. Eager orange clothed human bees pick up the litter, bikers shoot paste me and joggers - well, they jog. Or walk. Or race like the devil was on their tails. After a little over an hour I pass the zoo, and I have a revelation. Today's hike is going to be long.
I'm no longer alone, though. If you see somebody walk from the Marienplatz to the Isar river carrying a big backpack and hiking poles, 99 out of hundred times it's a MuVe hiker. So Christian from Lower Bavaria and another Christian from Lower Bavaria (whichever way you look at it) are now walking next to each other towards Wolfratshausen. Our tempos match, and a little smalltalk makes walking easier. At least if there wasn't...
Ouch. The pain comes suddenly and from both heels at once. Then the horrible realization hits: Blisters! I have, for the first time in fifteen years, gotten blisters. And that after only 10 kilometers of the very first leg! At leasts there's a piece of wisdom in that: if you break in your new trailrunners, do it at 60°F when it's dry. At a humid 90°F your shoes will rub your sweaty feet like sandpaper. At least I've got blister band-aid and moleskin in my first aid kit, and a little later, my feet are patched up, wrapped in thick socks and wearing my outdoor boots. Lesson learned. I can only hope the blisters won't become a deal breaker for my hike.
The journey continues along the river. An Irish kiosk tries to steer us towards the middle dam, but we ignore his tip, stay on the shore and stop for a bite in the next beer garden - which we would have neither seen nor been able to reach if we had followed the kiosk owner's suggestion.
After a good meal, we resume hiking towards Schäftlarn, a town famous for the old monastery which now houses a school, a distillery and a restaurant, among other things. There we refuel our motivation with coffee and beer-and-sprite, which we call "Radler" in Bavaria (which translates to "bycicle driver"), and tackle the last two hours of today's leg. The floodplain forest is really beautiful, and the view over the river Loisach estuary great, but my feet and calves are on fire. A small highlight is walking through the barrage instead of over it, and then it's - finally - only a few kilometers of walking. We watch how the wooden Isar rafts are reassembled to transport the next crowd with barbecue and music and muuuch beer down the river, where they (the rafts) a taken apart once more and driven back to Wolfratshausen.
I reach my hotel at half past six, with tired feet but sporting a grin. After surgically removing my socks (they tried to form a new chemical element in conjunction with the socks) I reward myself with a long shower. Then I plop down on a chair on the balcony and type this short account. I know that there's no way I'd do that once I was at dinner. The moment my stomach is filled, I'll crash on the bed.
Statistics:
    Distance travelled: 34 km
    Footsteps: 52,000
    Calories burned: 2800
    Elevation change: not worth mentioning
    Blisters: 2 (huge)
    Drank: 4 liters
    Highlight: already met another MuVe hiker, so I'm not the only crazy person out here
    Lowlight: can you guess it?
Tomorrow the route continues towards Lengries, covering 37 km distance. I'll start early and walk very slowly...
Tags: MuVe